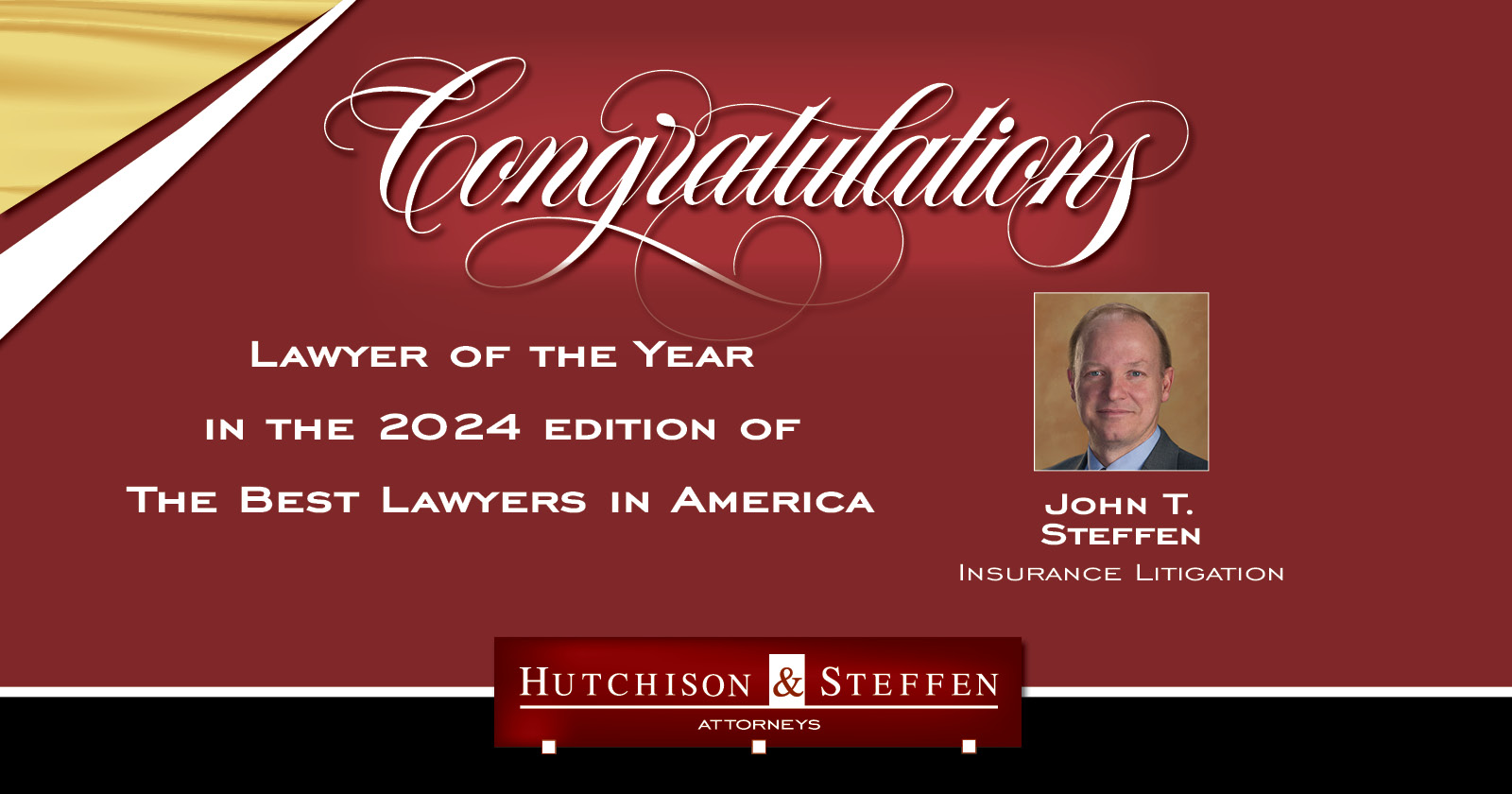 Best Lawyers Recognized Steffen for His Work in Insurance Litigation
LAS VEGAS, NV — John T. Steffen, a founding partner with Hutchison & Steffen, one of Nevada's largest, AV-Rated, full-service law firms, has been named Lawyer of the Year in the 2024 edition of The Best Lawyers in America. Steffen was recognized for his work in Insurance Litigation. The selection of lawyers for inclusion in The Best Lawyers in America is based on a comprehensive annual peer-review survey in which leading attorneys cast their votes on the legal abilities of other lawyers in their practice areas.
"What an honor to have been named Lawyer of the Year by such a respected publication," said Steffen. "After more than 30 years in the legal arena, I'm humbled to be recognized, and vow to continue to provide the best legal counsel I can for those who need it."
Steffen is the managing partner at Hutchison & Steffen. He received his B.A. in Speech Communications from Brigham Young University and graduated from the University of the Pacific, McGeorge School of Law. During law school, John was recognized as the top oral advocate in his moot court class and was awarded the Emil Gumpert Moot Court award. He is a well-recognized expert in landlord/tenant law. He is called upon regularly by the judiciary and legal educators to participate in landlord/tenant educational programs. John is admitted to practice in both the state and federal courts of Nevada. Steffen is a member of the American Bar Association and the Association of Trial Lawyers of America.
Founded in 1996 by Mark A. Hutchison and John T. Steffen, Hutchison & Steffen is a proven, AV-rated, full-service law firm, whose attorneys are experienced and committed to providing the highest level of client service. Recognized as one of the largest and most respected law firms in Nevada, Hutchison & Steffen has built its reputation on outstanding results for its clients. For example, following a four-month jury trial, the Firm obtained one of the largest jury verdicts in the United States. Jury verdicts obtained by the Firm have been reported in The New York Times, The Wall Street Journal, Los Angeles Times and other publications.